Dec 9
I thought what with all this nasty budget stuff in the news and whatnot, that you might like to hear a nice story.
Once upon a time, there was a man named Shay Kinsella. He met a little girl in the 1980's who had leukaemia, and when he found out that her dream was to visit Disneyland, he decided to sort that out for her. Unfortunately she passed away before that trip came to be. The news woke something within him;
"At that moment he promised that he would do everything he could to bring a little magic into the lives of sick and disabled children all over Ireland and so was born the "Share a Dream Foundation". Now in its 21st year, the Share a Dream Foundation has worked with thousands of children North and South to help their dreams come true and give them a break away from hospitals, painful treatments, loneliness and fear."
It's a funky thing, living with someone with special needs. A cocoon is formed by gizmos… one regulates, another sucks, some blow. Wheelchairs and syringes and tubes and general accoutrements that are needed to keep a dude alive can be kind of limiting, when it gets to travelling away, especially seeing as we've had to sell our wheelchair van. Lack of escape can drive a person nuts, especially if you're only eight years old. Siblings of disabled children get used to the sacrifices but I feel my daughter's pain that we can't just up and leave to sleepover with Auntie Mary whenever a spare weekend comes around.
Plus! There's the fact that funding for Carers in Ireland is pretty low right now, so I can only imagine the huge amount of families out there who are in the same boat, bursting to be free of their same four walls every day, just for a day or two. I think it's amazing that organizations like these exist, they're the backup generator for happiness crashes in this country, running invisible like endorphins through the nerves of Ireland's central backbone.
They offered us a wee holiday, which we returned from today.
Our hotel room was bigger than our entire house. It was a twin suite at the Carlton Hotel in Blanchardstown with enormous beds very suitable for bouncing on, and an ice machine right outside the door. The people that work there couldn't be doing better jobs, they have good instincts with children and ways to soothe volatile situations like soft butter on toast. The hotel had no playroom, but there was much potential for hide and seek in the foyer. We had adventures in stairwells, and searched for secret doors and leaflets to make into paper aeroplanes later on.
We went to Tayto Park yesterday, which was only a half an hour away from the hotel. Turns out the hotel does regular deals for families, the four-star sleepover and free entry to both Tayto Park and the Aquatic centre and a picnic for just south of €150. Nice. It seemed like the hotel was set in the middle of nowhere, nothing but fields, pylons and legoblock buildings for miles around but it's self-contained perfection, really in a great spot if you're in to family stuff. If they're sick of children by now though, they don't show it.
Share a Dream arranged for a fella to bring us for a tour of the park, through a teepee village into jungle territory with enclosures full of monkeys and weird breeds of cats and a falcon or three, rescued seals barked unexpectedly at the children and made them jump and giggle. The playground would have been a haven if it wasn't so chilly, I imagine the place gets a great trade during the summer. There was a mother of all zip-lines jutting from one part of the park, but judging from the frozen people at the top we figured we'd just brave it in the gift shop and picnic beside the fire in the restaurant instead. It was a good call, I can feel it in my waters.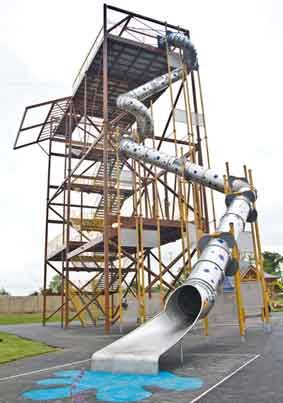 She's taller in person.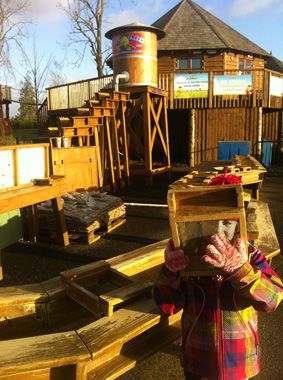 Sifting for moon rocks and sapphires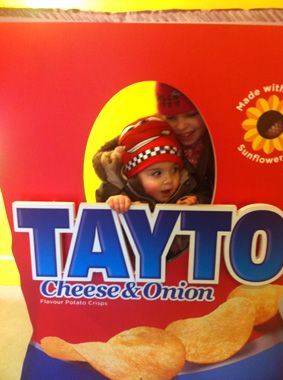 Baby spud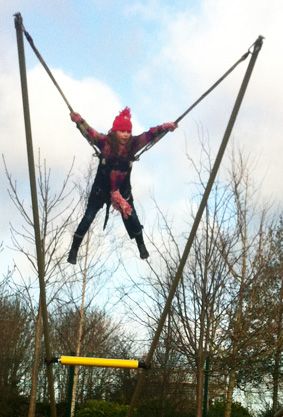 "Ma! I've a wedgie! I really do!" Never have I been so proud.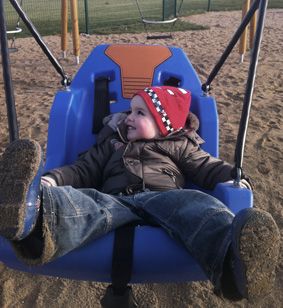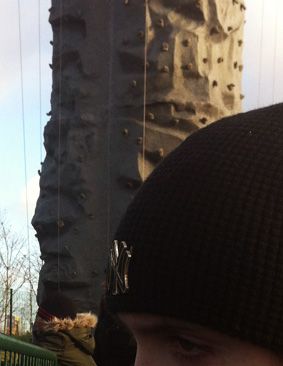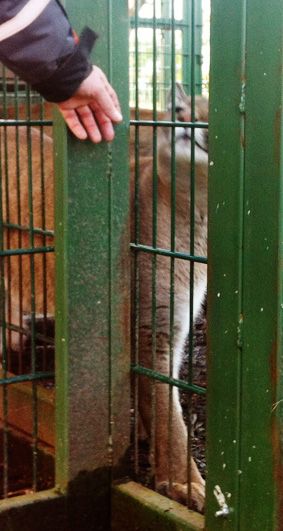 Go on, let your toddler in here to play. You go for coffee. I won't eat him… much.
Please, if you're in the position to be able to give to charity in 2013, send it Share a Dream's way. I can't thank them enough for the break. For crisp sheets, and not having to cook for a day or two, for smiley children and fuzzy dressing gowns… everything was amazing. Amazing work for amazing children.
The End.