Oct 28
The handy thing about being the overlord of the school library is the ability to make it my hovel. If there was a zombie apocalypse I think it's the first place I'd go to hide out. I have a Lord of the Rings poster in there, not the new release one, but a graphic that was done for the book series a while back. I like to scatter odd poetry books and fact books about whales and motorbikes about the place. And cushions. Lots of cushions.
There's a blackboard at the rear of the little library room, this year I've decided to chalk up an aul' Word of the Week for the laugh. It's difficult to decide what the week's word should be though, it can't be too long or too short, and must be relatively comprehensible to your average nine-year-old.
This week's word is:
Delenda
De`len´da
Meaning: Things to be deleted or destroyed.
To use the word in a sentence, 'The spam comments on this blog are among my delenda today.' It would make a lovely name for a cat, if you're a fan of irony.
So far the past words of the week have been 'Jagged' and 'Laconic'. Have you any ideas for good words? I run frequent blanks.
I leave you with a creation of Puppychild's;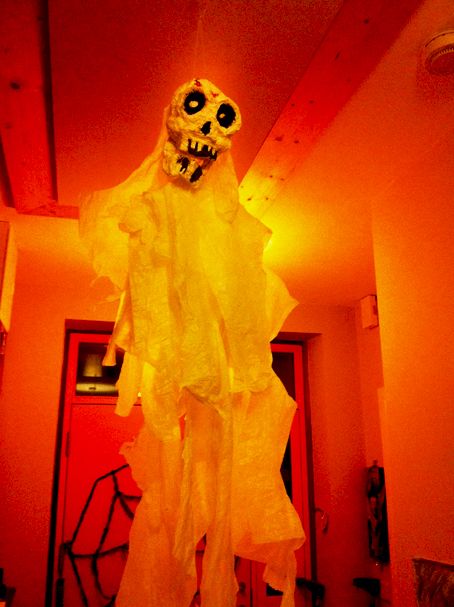 I made the skull out of scrunched-up newspaper sticky taped together, which Puppychild wallpapered over with kitchen paper and a PVA dilute mixture. When it was dry she painted it and skewered its brains with a coat-hanger and hung ripped-up plastic aprons onto it before performing her weird ritual which of course I asked nothing about.
Happy Halloween, pagans!!