Aug 24
Don't you hate it when you can't remember your username and password for your blog site? That's a bad sign. Baad blogger. Baad girl.
So I learned an interesting fact recently…
-o0o-
Onions are spurious artifacts. They make you cry. They're good for clearing paint-smells out of a room. They are the base of any good bolognese recipe. But they are also toxic under the right circumstances. Did you know that?!?
Apparently in the olden days whenever somebody was sick, a half-onion was placed by the bedside, because onions absorb bacteria. It's one of their better traits. So when you're at a barbeque and you're about to sue the dude that's frying the burgers because you got sick after eating a double-decker with onion relish, think twice. It's not the meat that's at fault, nor the cook. It's the chopped up onion that's been sitting there for hours absorbing the E-coli around it. It's why you should -NEVER- store a half onion in the fridge… it's absorbing the random bacterium in fridge-land and it's going to make you hurl unless you cook it properly. That is all.
-o0o-
The second part of this post shall be…
How to amuse 100 children?
I like doing the whole fundraising thing for Puppychild's school. It's nice meeting with parents and shooting the breeze. It's nice to share the fact that children don't just drive you crazy, but keep you sane at the same time.
But…
Movie nights are an integral part of fundraising and they're the background money-spinner, and yet they're a dodgy entity.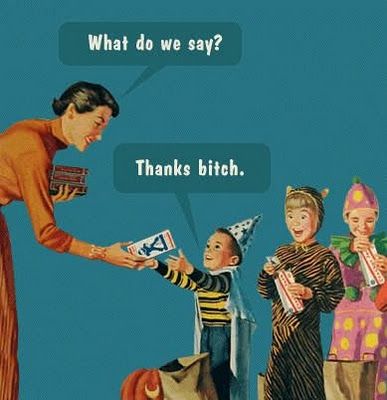 I mean… I can't sit still for a whole movie, and I'm an adult. I start wanting munchies, I start wanting to roam or knit or chew my nails and I'm middle-aged for gawd's sake. How on earth are a whole bunch of 5 – 12 year olds supposed to sit out an hour and a half of film quietly?? We've tried it before, and the first-aid kit was broken out because there is such a thing as attention deficit disorder but it's not limited to those special children, it pretty much exhibits itself in 50% of the ticket holders in most of the films we've shown so far. Sugar will do that to small dudes. Parents are starting to not send their children in for these events for this reason, because boredom breeds injury.
I need an alternative to the standard run-of-the-mill movie night. I need a murder-whodunnit-night, or a disco-on-an-extremely-low-budget-night or something. Do any of you have any strange or crazy ideas?
When I say strange or crazy, I mean strange or crazy.
Is there anybody out there who's ever had to amuse a hundred children on a low budget? I'm guessing that most of you haven't… but if you had, how would you do it? Should we be sacrificing hamsters to Hermes?
No suggestion would be too weird or inappropriate.. you know me by now.