Dec 15
I'm at a turning point in my life, I think. Not in a Robert Frost sort of way, but imagine his yellow wood had been bulldozed one morning and replaced with a four-lane motorway full of spaghetti junctions… that sort of way.
I was getting so good at hiding from things on my comfy couch surrounded by my lovely little K8lings and thoroughly enjoyed my last three years of shitehawkism beneath the radar, but it seems I've been found out by some Greater Power who is suddenly gunning for my blood.
They saw me coming. I'm a big fan of Puppychild's school you see, it's an ancient old thing in the middle of nowhere filled with nobles and countryfolk and eccentrics so I used to attend the parent meetings out of curiosity. Then I began to attend them purely because nobody else seemed to want to go so it was sort of obvious when I didn't. Now I have to go because I got spuriously voted into the position of Chairperson of the Parents Association.
"Sorry? I'm a what now?" I says. They just smiled and handed me their coffee bill.
We have the menial task of raising between ten and twelve thousand quid to cover the money flop this year it seems. One does not just pull a handy grand out of one's bum, you know. This requires work! A LOT of work. We threw a film night at the school and raked in €400 straight away, it was a great buzz. The flyer for this Friday's gig looks like this: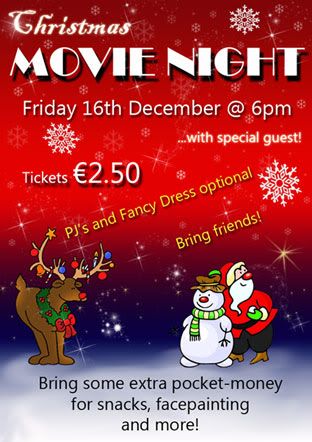 Aww, Chwismassy!
My family, however, also demands that I get up off my arse and try some hard graft but I've no clue as to how to work that one into an already jammers schedule. Need creativity. And a time machine.

And! Worst of all! Potty training has begun.
Save me.