Jun 20
Posted on
Monday, June 20, 2011
in
Family
I was paring her colouring-pencils with a retractable blade when I asked her if she had any homework tonight. She replied that yes, she did, but Sophie didn't because it is her birthday. Birthday?! Buggerty fuck… wasn't there something about a party??? What time is it now… somebody find the invitation, quick!
Already an hour late (*face-palm*), we changed our clothes and found our missing shoe and packed wipes and nappies and bottles and 'where the hell are my Goddamn keys'ed and brushed our hair and sped away sharpishly.
Airfield house is in Dundrum, which is a busy suburb just to the south of Dublin City. It's full of apartments, commercial complexes, fancy hospitals and shopping malls but right in the center of all of this confusion, is a farm of all things. I'd never heard of it before today, it was a pleasantly odd find.
To say it was pissing rain, however, would be an understatement. It was the sort of rain that bounced off dry earth and got you wet from underneath, the sort that doesn't allow for much petting or feeding of any sort of animal, most of whom were dug in for the day, squeamish of getting their wattles wet.
I found the party squished into a tent at the bottom of this farm, a beautiful sculpture of woven cloth and bamboo sticks stood sentry outside its door and an enormous noise came from within.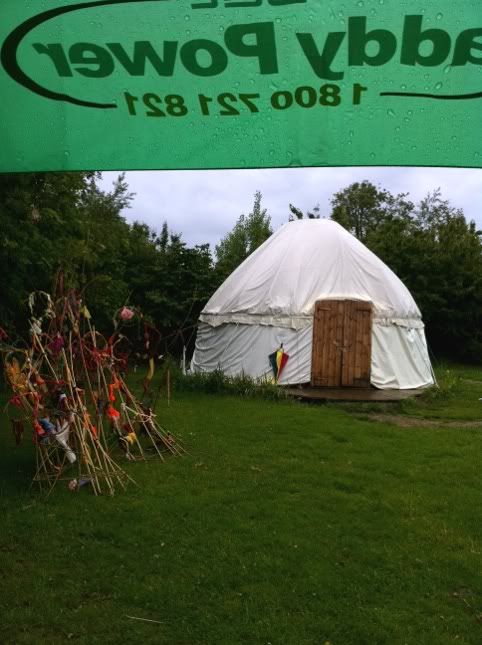 Eighteen children, twelve adults, a handful of babies and their paraphernalia were stuffed into this tent, along with two long tables, a tonne of teeny chairs and a food presentation table. There was clearly no room for yours truly and her Sir Fartsalot of fidgety baby tendencies.
I set up camp outside under my umbrella until the foodal servage was over, at which point the rain cleared, and people burst from the bulging doors of the party tent. Some regarded me with oddness and declared that I looked like a leprechaun sitting on a treestump, others looked at me with jealousy as they expired the final gasp of farty carbon dioxide hum from their lungs and gulped fresh taste of freedom and wished that they had done what I was doing, all along.
Small children gathered around Sir Fartsalot and I, wiped their small hands on my umbrella and wetted and spiked the baby's hair and named him Tedward and shook the raindrops from sapling trees, and then ran inside again to see the Hello Kitty cake all bedecked with sparklers.
Airfield house must be a beautiful place when there's time and sunshine to explore. I'll re-visit it someday, when there's cause to, or maybe for no reason at all.