Jun 12
Xbox gaming is a bit like smoking. Those who don't do it just cannot understand why those who do it, do it. So I'll tell you, in my own gamey way.
My reasons are threefold;
1. It's good for your hand-eye coordination and so therefore must be good for your brain and its fight to stay sensible in this crazy world. My children will thank me for this someday, when I'd rather be leveling up on a shoot-me-up than flirting with the toaster.
2. There are emotions in day-to-day life that need releasing. Painting is something that I would love to do, but blowing things up works too, as does firing a trench-gun into somebody else's face.
3. I like to abuse nine-year-olds.
Oh wait… that came out wrong.
I mean I like to return the abuse that nine-year-olds give me.
At the beginning of each game, a wee speaker symbol pops up beside other online player's names, and you could either be met with pregnant silence or a barrage of verbal abuse from some kid… usually an English kid for some reason. It would demand that I answer it, and so I would strap on my head-set for some fun.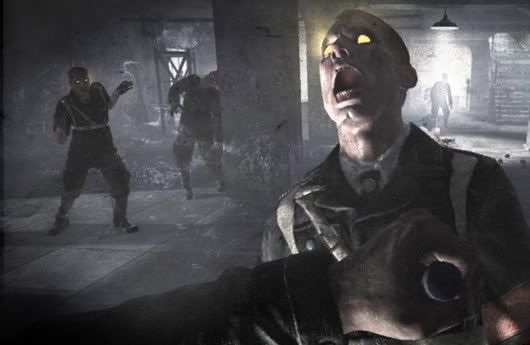 (I should divulge right now that the game in question is usually 'Call of Duty-Black Ops Nazi Zombies' which is strictly over 18s given its extremely bloody nature and strong language.)
Four people meet in a room on the first level, there are four windows through which zombies wearing Nazi uniforms are trying to enter. Each player must defend its own window and help its team-mates, or abuse them as they wish. This is where it gets interesting… in a consequence-free world, you can say what ever you damn well want into your wee headset thingy.
If some pre-teen gets on there, and tells me I'm a Paddy Pikey scumbag and I can't shoot for shit, what can I do but explain to him why his mummy doesn't love him and throw hand grenades at him and nag him into taking up football  thus mucking up his gameplay? There are very weird conversations to be had on Xbox Live.
I thoroughly advise you try it.