Jun 9
I've never met a mother who hasn't feared summer-time to at least some extent. The mumblings start at this time of year, roughly a month before primary school children are released from captivity to stare blinky-eyed into the sun (or at the television), to revel in their freedom for a whole entire two months. That's a life-time to a small child, and to it's parents, and to it's neighbour's flower patch for that matter.
How to entertain one's offspring, but? How to keep them feckin neighbour's kids from hanging out on your shed roof and torturing your dog all the live-long day? Throwing stones at them gets you in trouble, I found that out the hard way.
I've had the most amazing idea in the whole world though.
When them idjits from Dragon's Den read this they're going to be throwing millions at me for even TWO percent of the intellectual rights to it.
Prepare to be amazed…
-o0o-
…I got to thinking, why not attach a giant hamster-wheel to the side of your house, but hook it up as a generator at the same time. It would entertain the kids, cure obesity and solve your energy crisis simultaneously!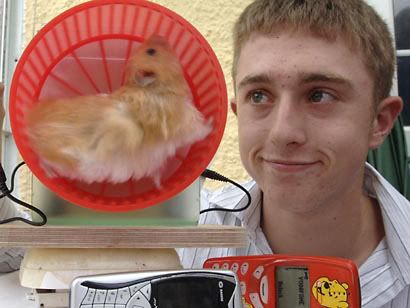 Think of it this way… a half hour of television would cost ten minutes on the wheel. To re-charge a DS would cost forty-five minutes. Send the dog running on it at high speed for half an hour, and that's your dishwasher cycle right there!
-o0o-
It's an un-tapped sustainable energy source that's just waiting to be abused and I invented it! A Nobel Prize would look lovely beside me Wii, so it would, if anyone's asking.
(The image above is of Peter Ash and Elvis, his pet hamster, who afforded Ash talk-time on his mobile phone. I wonder how many kilo-watt hours the little smartarse himself is good for?)