Mar 14
I went to play bingo last night. Well you might think it a sad pursuit to follow for a young woman with plenty of party in her yet, thank you very much, and you might be right, but I couldn't not go.
Firstly, it was a game in aid of Cystic Fybrosis to build funds for a friend who's legging it to Paris for the marathon pretty soon, so bums on seats had extra special importance that night.
Secondly, I'm weaning my baby of my booby and this is not going especially well at all. Being a Taurean, he is a very stubborn child and does not see why this plastic crap has suddenly invaded his life before bedtime, so he objects extremely loudly… a sound from which even Mary Poppins herself would need a break from now and then, even if it is only to go bingoing.
Thirdly, the waiters were all naked.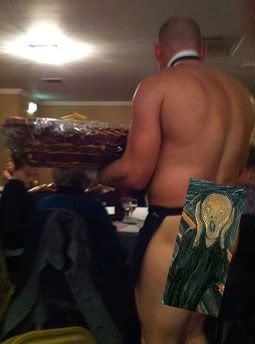 This is a very clever idea. As the caller is announcing his two little ducks see, Mr Naked Waiter is sashaying around the place and cleverly deflecting women's attention from the balls (as it were) with his cleverly engineered back, sack and crack wax. All I could hear throughout the night were periodic requests from various crevices in the room to repeat the last few numbers, all of which were ignored by the caller, of course.
I, however, payed attention and won three prizes! Yep… having spent the day wiping two sets of cheeks four times each free of brown matter of varying consistency, I had had my fill of arse entirely for the day… even very well shaved and artificially tanned ones that reflected the very rays from heaven itself couldn't tempt me away from my bingo cards.
What a great night out it turned out to be! So different, so cheap. And er… great crack. Heheh.