Feb 22
I been cut back.
I didn't notice it at first.  I watched the news and saw people protesting on behalf of the weaker members of society, but it didn't once occur to me seriously that they were talking about me.  I depend on a Carer's Allowance, Domicilliary Carer's Allowance, and Child Benefit for sustainance, all of which were pruned heavily at various stages over the last year or two.  Seemingly overnight, my bank balance hit the pits, the lack of digits instilled a panic in me that lasted all of a week or two.
I'm suddenly walking around local markets with a calculator, trying hard to fit a week's shopping into twenty euros.  I'm saving up for kerosene and putting three jumpers on my children until heating is afforded, and have had to cancel direct debits to Concern, Trocaire and the Irish School for the Deaf… that bothered me more than anything else.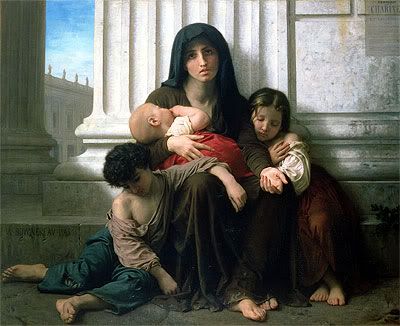 (Picture: Adolphe-William Bouguereau)
I'd complain about it, and I'd sure as hell put a flea in the ear of any polititian that darkened my door, but I don't because I'm pretty sure that this is all a good thing in it's own peculiar way.  What goes up, must come down.  We were rich, now we're poor, our Grandkids will be rich again, it's just the way things flow.
Meanwhile Puppychild's un-learning her materialistic fetishes in favour of jigsaws and chalk, Sir Fartsalot's savings fund is looking bleak but maybe this will teach him the meaning of money so that when he does someday cash in his savings, they'll go to the right places.  The munchie cupboard is bare of biscuits and crisps now, instead it homes flour and baking soda… I've been meaning to sharpen my baking skills anyway. 
I couldn't give a flying fuck who's fault it was, regarding this banking crisis.  Part of the time I think it's just a conspiracy, something somebody made up to cover for a greater plot.  My vague attempts at beginning a revolution petered out when I realised that we all have very little to complain about, we still have basic rights and services for when we hit rock bottom and that's a lot more than some other countries can boast. 
The one thing that scares me is Laughingboy.  If things should conspire the wrong way and we are left without free medical aid, he's bunched.  Would the government let him die?  Probably.  I'd most likely have to start a charity in his name to cover the costs of his equipment and medication and giving my past organisational skills, I'm scared for him, but we'll cross that gorge when we come to it.
Meanwhile I vote for Socialism.  I don't care.  Since reading The Ragged Trousered Philanthropists the concept just makes so much sense to me.  I'll vote for Sinn Fein even though I know there's no point, but the point is to vote anyway, and I hold out the hope the rest of those feeble philanthropists out there vote their own way too, that this will be a fair election.
But it won't, and so life will go on…
…but hopefully without all the complaining.