Jan 5
Whenever anybody I know gets a goo on them for a puppy, I always tell them to try ASH Animal Rescue Centre first . It's in Kiltegan, not far from Baltinglass (one of the prettier towns in this here county of Wicklow), and is one of those companies that operates strictly by the 'never put a good dog down' book. They currently home 20 dogs (though numbers rise to 60-ish), 23 cats, one donkey, one horse, 2 pigs, 3 foxes and two rabbits.
Melissa Hayward, a model with an eye for funk recently adopted a Basset Hound from this crowd and was so impressed, she took it upon herself to create a charity calendar to raise funds for the rescue centre.
And create one she did! It's so stylish… flourishes of retro flood the pages in high intensity colours that demand a first glance, then a second as the quirky sense of humour sneaked into the pictures hits you.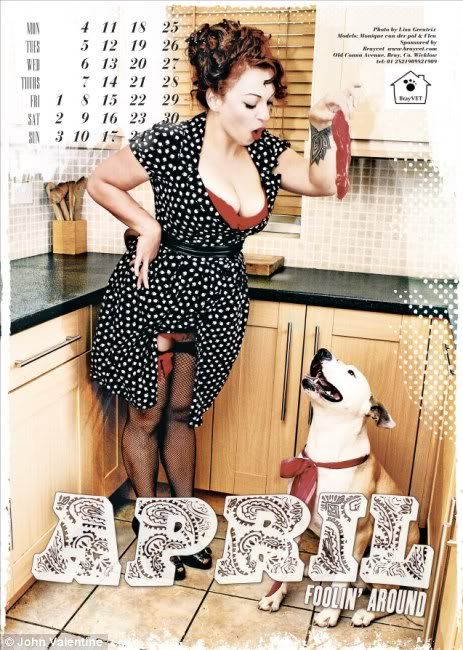 I would personally love to hang this calendar in my livingroom, but if I did, I have a feeling that my husband might object despite all the scantily clad women knocking about.
"Why on earth would he object to scantily clad women?!?" I hear you ask? Well, he's not the only one. Pet shops have refused to stock it, and twelve of its backers have pulled out of the project in disgust. Even local TV vet Pete Wedderburn appeared to have difficulty holding his cereal down, labelling the calendar 'distasteful' and 'entirely wrong'.
March. Marching orders, more like…: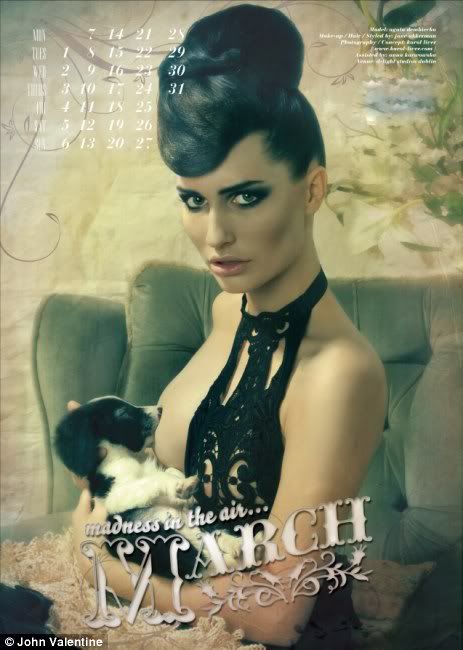 There. You've seen it. Are you all okay? Anyone in need of defibrillators out there? Jeez. Yes, the puppy is apparently suckling the model's boob. But isn't it cute and yet confusingly sexy?!? Doesn't that show overtones of nurturing associated with the rescue centre, or is this just plain old animal torture? The model doesn't think so, Agata's a follower of PETA and is well used to their extreme advertising… apparently the Irish just aren't ready for it yet though. (Down with this sort of thing!!!) The Daily Mail had a field-day with it, but still published all the pictures, hey.
Co-creator Adelheid Walsh is quoted as saying: 'We were left really frustrated and in floods of tears because we had all worked for hundreds of hours on this and for free because we wanted to help an animal charity. Then we have people dropping off from the campaign and feminists telling us we are degrading women – we are not.'
Ash themselves refuse to apologise, their spokeswoman Helena Le Mahieu states: 'The cause is more important. It's a beautiful calendar and the picture is very tasteful. People should get over the minor details like this and get behind this calendar.'
It leads me to wonder… is it animal cruelty that's taboo here, or breastfeeding? Either way I find it pretty fascinating and encourage all animal-loving, quirk-searching charity enthusiasts out there to buy a copy. It's such an excellent cause, not to mention a pretty excellent conversation starter. What do you think?