Nov 6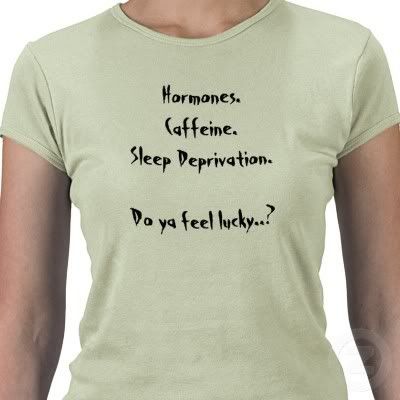 Every day.  Every sodding day.
Every day I wake up and swear blind that I'll go to bed early for a change.  I hate waking up… that is I hate waking up when I know I have to get up;  I love waking up and finding out that I don't have to get up for another two hours, no surprise there, my homo brethriens.  My best friend is the snooze button on my mobile phone (the same phone I won two years ago!  I'll miss my Ericsson should I ever go iPhonebound).
It's just so HARD to go to bed at night.
From 08:00 to 21:00 every day, I belong to somebody else, many people in fact.  Six dependants depend on me to keep them alive and happy, and this causes quite a lot of noise, because I can't deal with them all at once:  My baby needs input and a clean bum-hole.  My eldest son needs music and attention and someone to remind him to stop grinding his teeth.  My daughter loves to hang around with me and do things with me and asks me constantly to look at her doing funny things, which is a beautiful gift and something I adore and enjoy very much, but only in medium doses.  My dog needs exercise, a luxury I'm too lazy to afford him which cuts me up, and he whines and gives me big dark sad eyes to rub salt on the wound.  My cat meanders around my busy feet and trips me up…  and through it all, my husband needs silence while he sleeps.  Daytime silence, three children and a large dog – these are difficult things to shuffle!!
-o0o-
And so the last child is tucked into bed, and Einstein's theory of relativity kicks in.
Silence.  Pure, peaceful silence, the possiblities endless.
And so I dive for the fridge for a can of beer, and I wonder how to fill my night.  And while I wonder how to fill my night, I fall into the Facebook pit and drown in stupid television and give in to the munchies and waste my hours on pointlessness.  When 11pm comes round, I feel unfulfilled and ignored.  I can't go to bed unfulfilled and ignored!!!
-o0o-
It seems to be a common theme among people, that need to burn the candle at both ends.  Two hours of selfish time is just not enough when you're a nightowl like me.  Sleep tortures us and wakes us up at night time and hates us the next day, and stolen naps create demons with sticky eyes, it's just not fair.  You know what I mean.
I vote for a re-jigging of the 24 hour clock… Days should be longer and weeks shorter for starters, I bet the moon would be up for that.  The sun might get in the way somewhat but we'd get used to it pretty quickly with a bit of black-out lining and a heavy duvet.  It can't be all that difficult to arrange, the re-invention of time!?
The three day week… yet another thing I'd do if I was Teeshirt.