Oct 28
What do you get if you cross a sheep with a rat? A reep maybe. Or a shat.
Apparently it's none of the above. Apparently you get one of these: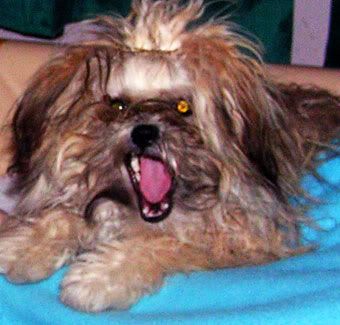 It's a cross between a Bichon Frise and a Shitsu, what I might call a Scut. Certainly not a dog, that's for sure.
When it was placed in my charge for the weekend, I accepted gracefully for the sake of the entertainment of Puppychild, but swore to take the piss out of it at every available opportunity, as you do. I bathed it, and made it look like a drowned rat and laughed at it, and laughed at it again when it re-appeared the next morning fluffier than a tumble-dried tampon.
Since introducing it to Laughingboy however, I've changed my mind. It respectfully pawed his chest and snuffed in his ears and made Laughingboy giggle and put up with the wild thrashing arm-flaps that ensued. It fell asleep on the kid's chest and ignored the grabby wetness of a six month old baby with great temperance. My estimation of it went up several notches.
Then, when it came with me to the bathroom while I pee'd and curled up to scratch its itch by my feet; as if to say 'If you run out of bogroll, I'm always here in emergencies…' I fell another 10% in love.
Should my friend return on Sunday looking for her dog (?) only to have me tell her it's dead while I sneakily hide it in the shed… you wouldn't judge me, would you?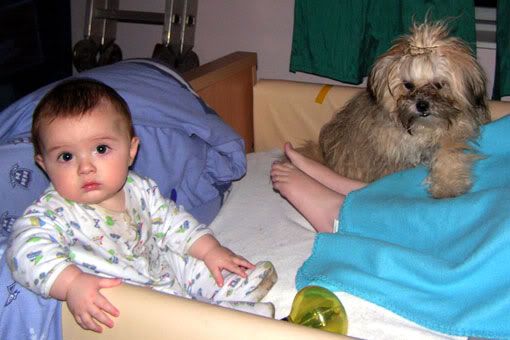 (Yeah, it was me that put the hairclips in its barnet. Not because it's cute, but because the poor pissant can't see for its messed up fringe.  I can identify with that.)