Sep 24
When I pull into a parking space I like to glance quickly into the car parked beside me, this tells me if I can get away with slamming my door against their enamel, as you do.
Today I did just that. Pulling into a space in a crammed carkpark underneath a large shopping complex, I scoped out the black 4×4 with its chaste paintwork beside me and was dismayed to see a little head floating in the back seat of the vehicle. She had big sad eyes and a head on her like a dandelion clock. Someone's Granny. Awww.
They could've left her with an aul' Woman's Own or a lollipop or a crochet hook or even a Nintendo, but they didn't. Not even so much as a crack in the window. She gave me the BDI as I assembled my array and made me feel guilty.
It made me wonder what sort of parent I'd be to my aul' pair someday, should I be lucky enough. Would I let my mother run naked on the beach in just her nappy? Would I bring them to Lidl high on coke and let them run riot in the aisles and would my dad tug on my hem in Tesco, wheedling for Viagra (not 'till after dinner I said!)?
Then I wondered what sort of child I might make to my kids… would Puppychild read Tolkien to me as she tucks me in in my nineties and let me eat custard lollipops on Sundays? I must be more mindful of this in the future in preparation for Plan B, should my plans to bugger off to Africa eventually fall through. Plan C might be driving into the Grand Canyon high on my first ever shot of heroin… I haven't really thought that one through yet.
Maybe the Eskimos have it right, but shuffling off in the direction of Wexford waiting for the elements to get me seems a bit rough. I might wander up the Dublin direction and do a Mad Mary on it and dance and sing in my finery or something else entirely.
Haunting a 4×4 in a carpark, though… that plan's way down the list I tell yeh.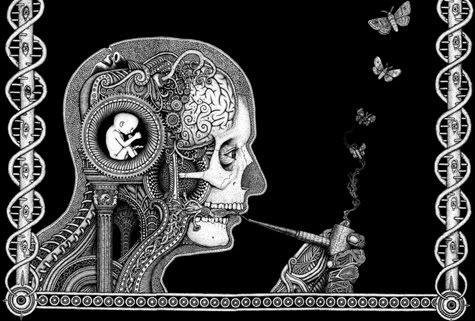 (image from http://deadpandas.blogspot.com/)