Aug 2
Puppychild still hasn't been Christened, I'm hoping for a two-for-one deal, her and her baby brother in their whites with damp foreheads and sandwiches and bottles of Cidona.  I just have to pull my finger out, when the next blue moon occurs.
In the meantime, it only makes sense to introduce her into the Christian world in all its complexity, so for the last month I've been bringing her to Mass.  She plays quietly with other children where the tea-lights burn and asks me what a Holy Spirit is, and where does the basket money go?  I failed miserably at the 'Who is God?' line of questioning, so I'm hoping the congregation inspires her somehow, but it hasn't.  When I asked her yesterday if she'd like to go to Mass again, she replied "No, thank you, if that's okay."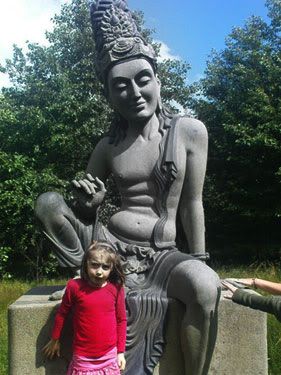 That's why I left her to sleep this morning, bundled up warmly in her blankie in her girlie nirvana on the couch, and I skipped Mass to go instead to the cemetary behind.  Sir Fartsalot nuzzling in my kangaroo pouch, we climbed uphill to his great-grandparent's plot for they had not yet been formally introduced.
We sat on their grave and gazed into the valley below and I bit his nails and dropped the tiny crescenty pieces onto the soil beneath so that their DNA may mingle forever, and we whiled away and watched the clouds until the congregation's relief finally shattered our peace.  It was a morning well spent.
I think we may do that, my children and I, from now on.  We might skip mass and picnic above with our ancestors every Sunday instead and I'll teach them about God through nature, it's far easier to explain that way. 
The suits might wonder who the strange heathens are who float about in graveyards instead of sitting with them in their pews, and in time to come maybe my children will choose to join them, if not just to scout for boys or shelter from the rain.
It's their choice, but I've chosen already.  I'm with the crosses, the Hawthorn trees and deer-droppings in the silence beyond in God's own church, not Man's.  Chocolate and daisy-chains and snowballs in February, memories by association attributed to God.  I might even bring a bible, for the skaa!