Jul 26
It's your lunch break. You scarf down an onion bagel, a packet of crisps and a can of diet fizz, all washed down with a cigarette maybe. On your way back to the office, you pop one or two chewing-gums to dull the pungency of it all and congratulate yourself that you're doing your teeth a favour even if your smokey lungs are shot.  Two out of three ain't bad, sure.
-o0o-
It's not your lungs you need to worry about though, it's the other thing… the thing that was in most of what you just ate. Crisps, diet ('zero') drinks, chewing gum, diet yoghurts, artificial sweeteners, breakfast cereals, aspartame, aspartame, aspartame. It's in sugar-free children's medications, in a bid to prevent tooth-rot. It's in 1200 of the products you consume, and it's very slowly mucking up our genetics and making us say things like… 'isn't it funny how people are dropping like flies with cancer these days?'.
Unstranger's recent post reminded me of E951, the toxin that in 1980, was voted against by the FDA Public Board Of Inquiry on the grounds that the data was flawed, there were brain tumor findings in animal studies, and there was a lack of studies on humans to determine long-term effects.
Aspartame was since approved spuriously via pressure from Donald Rumsfeld, apparently. Urm… ok.
"The official story is that aspartame was discovered in 1966 by a scientist developing an ulcer drug (not a "food additive"). Supposedly he discovered, upon carelessly licking his fingers that they tasted sweet. Thus was the chemicals industry blessed with a successor to saccharine, the coal-tar derivative that foundered eight years later under the pressure of cancer concerns."  (according to this)
Aspartame basically metabolizes into Formaldehyde from amino acids and methanol, which eats you (so to speak) slowly, causing severe health problems at exceptionally low levels of exposure. It disguises itself as illnesses such as Lyme Disease, Alzheimer's Disease, Hypothyroidism, Fibromyalgia, Lupus, and Attention Deficit Disorder, to name just a few.
Some of the symptoms of aspartame poisoning include:
Headaches, Dizziness, Muscle spasms, Rashes, Depression, Fatigue, Seizures, Tachycardia, Insomnia, Hearing Loss, Anxiety attacks, Loss of taste, Joint Pain, Vertigo, Tinnitus, Irritability and Breathing difficulties.
Because it metabolizes into a poison, it is believed that it can also trigger or worsen things like brain tumours, Alzheimer's Disease, Diabetes, birth defects, epilepsy, Chronic Fatigue Syndrome and Parkinson's Disease.
Side effects can occur gradually, can be immediate, or can be acute reactions, but!  It's a billion dollar market, so SHHH!!! don't tell anybody!!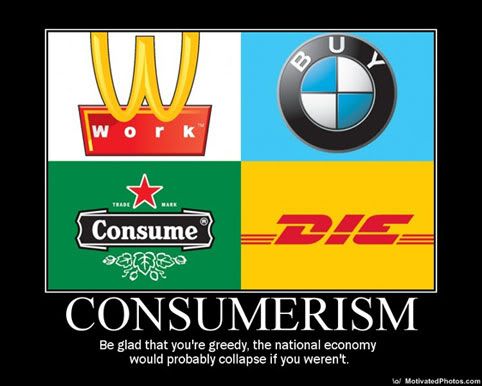 Here I sit with a tobacco pouch with the words 'Smoking can damage the sperm and decreases fertility' emblazoned in BIG lettering on its side. I have no sperm. I have plenty of children.
I'm worried about the warning that's absent from my bottle of 7UP Free that should state 'This product contains a chemical which eats holes in your brain. Do not consume if pregnant.'
But there will never be, because there's no money in that lark.
Because we could all be run over by a bus tomorrow, I guess.