Jul 12
They say that when you get what you want, you don't want it anymore.  But what if it wasn't yours to begin with?  What if you took it as your own and used it to its full potential, then discarded it like a used condom… bound on its path of decomposition with no regard to how long that may take?  Some people call that rape.
This is an arial view of the area of Knockree, Co. Wicklow.  I can't describe this place because no english word would fit properly.  Past the prettiest Youth Hostel in the world lies a parking spot marked by a horizontal barrier.  Once you've debarked yourself from your wheels you'll find yourself on a path lined by mysterious darkened faerie paths and wild honeysuckle and you follow this for ten minutes or so until you come upon a bit of wood with an arrow painted onto its top.  Follow this arrow, lep over the turnstile and then…
The wee hours of morning time are the best.  A haze floats below your view and hugs the river like a firstborn so that you feel like you're either flying, or are standing on the tallest mountain in the world.  It is the start of one of those downward slopes that beckons you and casts a spell on you to make you forget the fact that you'll someday have to climb back up again on the homeward stretch.
At the bottom of this path lies a river which shimmies through goblin groves and tree-filled troll hideouts.  On the banks of this river are various camping spots and tiny beaches for your freed sock-smothered toes to dangle from, with ropes hanging from branches (possibly put there by aforementioned trolls), so that you can swing into the centre of the river on a hot day and let go, to plunge into the guinness-coloured water below.
I walked there today with Puppychild and Sir Fartsalot and found this: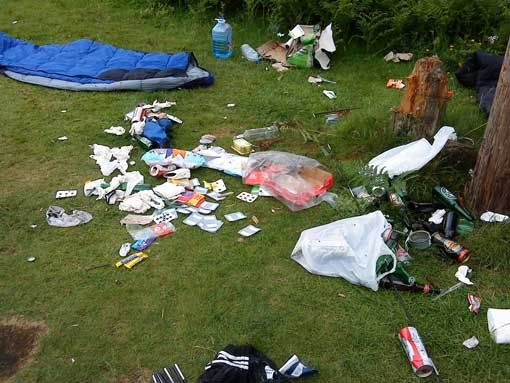 Heaven raped.  Small children denied from splashy footplay because of broken glass.  Human shit wrapped shamelessly in skidmarked bogroll and empty crisp packet carcasses gathering algae where fish should leap.  Shit from shit. 
How can a nation can gather arms and unite as a proud nation against some random French fucker on a football team, yet at the same time vomit all over this same nation's natural wonders and rape it of its purity?
Shame on whoever partied here.  Shame on you assholes.  You don't deserve this country.