Jul 4
Posted on
Sunday, July 4, 2010
in
Family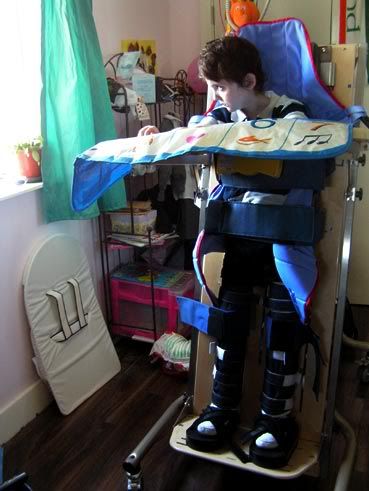 This rather complicated picture is of Laughingboy in his new stander, on loan to us during the school holidays. It arrived with a fanfare and took several grown men to manoeuvre into the house, coming to rest in the sacred junk spot in his room. I had moved the sacred junk into a parallel dimension the evening before, which was lucky.
With more straps than a Jimmy Choo and more velcro than a truck load of nappies, the stander needed a demonstration which was provided by Laughingboy's physiotherapist shortly after its arrival. As she and I battled with limbs and folds and hoists and elbows and gaiters, The Accidental Terrorist walked into the room.
"Jesus." he said. "Frankenstein's monster's after moving in!"
Laughingboy's physiotherapist raised her left eyebrow subtly, and began to turn the winch that moves the table into its upright position from flat.
"It's alliiiiive!!!!" shouted TAT, as Laughingboy flapped in delight at the shift in gravity.
Laughingboy's physio scowled. Was she scowling at the inappropriate joke? Was she concerned over Laughingboy's potentially hurt feelings? Maybe it was a scowl of jealousy because she has been itching to crack the same joke for the last five years of working with these standers but couldn't.
All I know is that Laughingboy is going to have thebest Halloween costume ever this year. Now where did I leave that Hannibal the Cannibal face mask?