May 28
I need scaffolding, badly.  My boobs were starting to clap with every footstep, it's not the sort of applause I'm used to.  Plus, one morning while getting out of the shower I actually drop-kicked one.  I knew it was time for professional help.
Puppychild held Sir Fartsalot for dear life while the boutique assistant rummaged through cabinets full of bra boxes.  I shuffled cotton like an Amsterdam pro and called out letters of the alphabet while Puppychild watched in awe,  I worried if she'd be asking her schoolteacher some time in the future what words begin with double D.
Anything above a cup size E must officially be classed as industrial when it comes to nursing bras.  I watched with dismay as the pretty lacy black numbered drawer was shut and the plain white Fs were dragged out, but even they were no use.  She tucked me into a G and sighed with relief.  Her work here was done, bar a quick attempt to sell me two of them which was fruitless as I found out how much each bra cost.
€52?!?  Is there a milking pump built in?  Do I get a slave that'll follow me around and prop them up for me?  No!  Oh well.  At least I've somewhere to put my spare change now.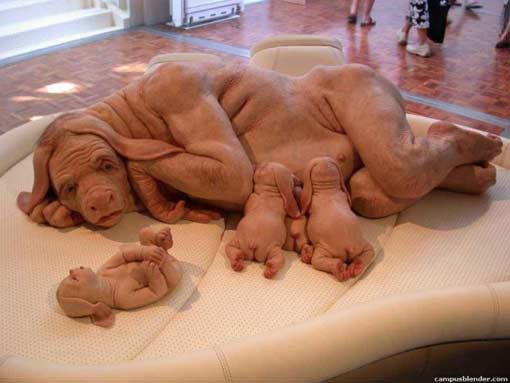 It could always be worse I suppose.