May 1
Posted on
Saturday, May 1, 2010
in
Family
I am in awe of so many things right now.
Midwives. Unsung heroes with an amazing ability to see you at your worst, your most base, with fluids erupting from every orifice to choruses of endless abuse and profanity. I can think of no other person who, with no formal introduction, you will so quickly drop your knickers for with no worry about intimacy or pride.
My own midwife last Sunday pushed the bed out of the way and brought me a physio ball, an oversized beanbag, and a tank of nitrous oxide. She pushed me into a hot shower and held my hand through my own personal hell, of which I can remember virtually nothing of. I begged her for drugs, I pleaded with her to stop being mean, I screamed at her for making me breathe and I told her that I wanted to die and that it was all her fault.
When my baby was born, she kissed me and I as I thanked her for the experience and moreso for not listening to me, it struck me that she'd have to do this all over again tomorrow, and the next day, and the day after that. Guiding women through horrific experiences with the same sweet ending… that reverend silence as a brand new baby is placed on its mothers breast and all pain is forgotten and tears of relief and gladness trickle onto sweat-stained pillows. What a truly awesome job.
Homoeopathy. They put me into that horrible ward when first admitted, and told me I was not yet in labour despite two days of contractions. I lay on the bed and listened to seven other women puffing and sighing and keening through their pain, sleep an impossibility. I listened as several poor souls attempted to drink water only to throw it right back up again as their helpless husbands mopped and sighed. Every now and then a lonesome howl would erupt from behind an anonymous curtain and sneakered feet would run towards it. I wanted out of there, sharpish.
I popped two Gelsemium 200c pills from my homoeopathic kit and two minutes later my waters broke. POP – off to the labour ward with me! I find it hard to consider that a coincidence. As soon as baby was born I popped a few Arnica 200c pills and within an hour of the birth I was washed, dried and eating a full plate of chicken and asparagus smothered with gravy. They offered me a painkiller but I honestly didn't need it – my body had fixed itself thanks to those useless little placebos.
The Accidental Terrorist. I can't imagine the helplessness a man must feel as a birthing partner. I didn't consider the fact that he was on his feet for seven hours straight without a sniff of a smoke break with his bad back while I was huffing and puffing. He massaged me, played me music on his mp3 player, said beautiful and supportive things to me as I thrashed and mewled like a severed demon from the bowels of hell.
At home he stayed out of sight but left a trail of cleanliness behind him. I'd wander into the kitchen at 5am to find it all re-arranged and spotless. The garden suddenly became transformed into a haven of handsome wooden flower boxes and brackets intended for hanging baskets, even the statue of the three nude ladies which he'd pfaffed at before were hung lovingly by the back door. Beading suddenly appeared by the skirting boards and the laundry pile vanished. His nesting instinct drew an awe in me that I'd never seen before, a renewed love that won't be forgotten in the arguments to come.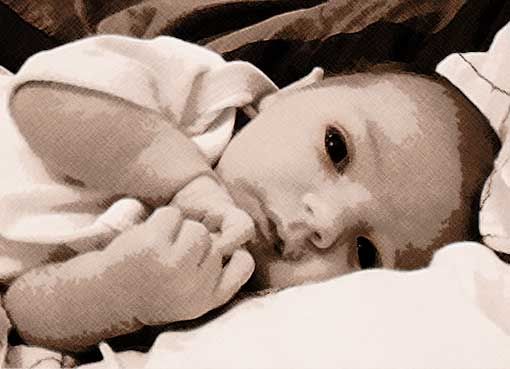 We named him Tom, because it was TAT's Grandad's name. Whenever he speaks of the man, he does it with such childlike adoration and always with a quirky smile hidden below the surface of his face. Though I know countless people will say 'Ahh, a good normal name', or 'Play it safe with a standard name, you do right', as they have done already… I don't care. Tom is what feels right, every man I've known who the name belonged to has been the salt of the earth and you just can't mess with that. Tom. Tom Thumb. Ground control to Minor Tom.
Henceforth known as Sir Fartsalot.