Apr 21
A trip to the National Garden Exhibition Centre today with the mammy inevitably led to an urgent case of the munchies and a craving for cappuchino.  We sat outside by the waterfall and basked in the warmth of that rare ball of gas in the sky and picked at our sangidges contentedly until suddenly mum exclaimed loudly and made me jump the height of myself;
"Look!  Brave robin – hello robin!"
Sure enough, a little red-breasted dude was perched on a nearby chair with his head cocked, watching us sharply.  I picked some crust from my sandwich and placed it at the far edge of the table. 
Turns out that robins in Wicklow have more gourmet tastes though.  Crusts bedamned… he hopped over to the edge of our plates and began to persistently rob bits of egg salad and chopped tomato until his teensy belly was full enough to merit us worthy of a quick song which he sang loudly from table centre.  He might have expected a tip, but I'm not sure what the tipping etiquette is for garden birds.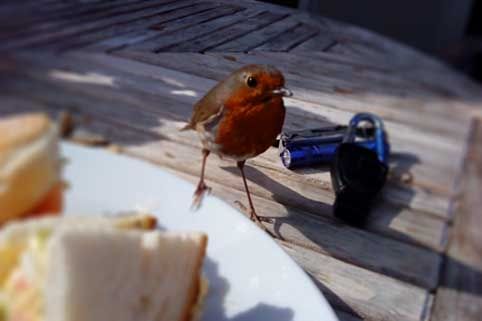 Pass the salt, luvvie?