Apr 15
Posted on
Thursday, April 15, 2010
in
Rantings
If there were such things as fashion police, who would they be and how would they enforce basic fashion sense?  Like those depressing notices you see in hospitals and Post Offices telling people that indecent behaviour will not be tolerated – in modern society, in a reasonably intelligent world, there should be no need for notices like these.
I now live in what could be called the arsehole of what was a quiet rural communtity.  It's a lovely place to live in if you ask me, a small housing estate that keeps itself to itself with ivy decorating trellised walls and planters holding pretty exotic grasses adorning the doorsteps.  There is just one phenomenon that irks people of our surrounding hinterland no end… the pyjama gang.
These are a small gang of teen-aged girls that just happen to be travellers.  Nope, I'm not going to go on another rant about travellers because I'm too damn tired and I couldn't be arsed.  Whether it's a coincidence that these kids won't be told or not, that's up to your own judgement.  Fact of the matter is, a few locals have pointed the phenomenon out to me in dismay, and seem to have elected me the fashion gardai.  What the fuck am I supposed to do?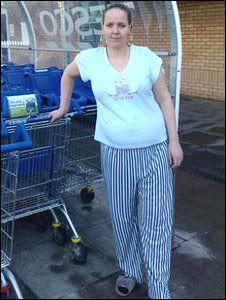 This is Elaine Carmody, a lady who is the victim of a recent fashion shut-down in a Tesco outlet in Cardiff.  She was booted out on her ear for wearing her PJs during a brief attempt to buy smokes from the store.  Other news stories declare parental dismay at the fact that some people couldn't be arsed to get dressed to bring their kids to school.  There's a flat-out blanket ban on pyjamas in Shanghai, China.  But – what is the difference between pyjamas and tracksuit bottoms?  Is this new invention of pyjama jeans included?
If pyjamas are banned on the basis that they look stupid, shouldn't spandex cycling gear also qualify? 
In the case of my local pyjama gang however, the problem runs deeper.  They don't wear pyjamas to the local shops because they're too lazy to wear clothes, they wear them because they have bigger pockets.  There's me being all racial again!  Just because they're travellers, doesn't mean they're out to rob everyone!!!
Wrong.
I interviewed the dude in the local shop in the hopes that he too might introduce basic clothing laws, but he spent our conversation venting a huge lament over his loss of stock to dressing-gown pockets, and telling me how much his new CCTV system cost.  The suggestion to ban such clothing was lost on him, I guess I'll try again when he's calmed down a bit.
So, I suppose my question is, if I were to tackle these girls again to ask them for the basic courtesy of getting dressed before they leave the house, how do I bridge the gap that is the bleedin' obvious?  Do I point and laugh??  Do I hire goons to knock on their doors late at night?  Even if I could get the leopard to change its spots, who's to say the new spots won't have deeper pockets!
Why am I bothered anyway?  Oh yeah… pride and sense of decency.  Damn it.