Apr 1
Easter Holidays.  A time to reflect about how much fun school actually is.  A time to figure out ways to entertain one's children without involving the television or the outside world because it's feckin' snowing out there for some reason.
I thought about making something chocolaty but given that I'm pregnant, it turns out there isn't an ounce of the stuff left in the whole house.  I thought about glueing eggshells back together but eggshells are flaky things and refuse to stay in tact under the pressure of a five-year-old's grasp.  I'd hard-boil them, but hey, we're in a recession.
It was Puppychild who suggested an Art Attack.  It's one of her most favourite TV shows, bar Supernanny and Spongebob Squarepants.  I showed her the website and guided her through its archives, asking her to pick an art project to do.  I expected her to choose something involving fairies or fashion or something pink at least, but no.
She chose the severed hand.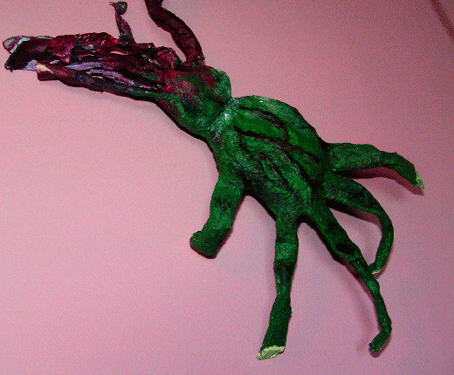 How to make a severed hand that can be brought to school and cause teacher to question whether social services needs to be called or not.
I'm so delighted she's inherited my sense of the macabre.  TAT objected that this art project isn't exactly Easter related but I disagreed… it does have loose connections to the theme of resurrection, if you think about it.