Mar 26
This is a blog post which probably should go without being written, but given the cathartic nature of blogging, fuck it.
Echinacea failed me last week for a change.  I found myself standing in Laughingboy's bedroom in dismay as our family doctor spoke on the phone to the ambulance crew in the background and my little boy fought to squeeze oxygen into his clogged up little lungs.  Auto-pilot took a while to take over, but next thing I knew, the bag had been packed and I was riding in the back of the ambulance with the sirens blaring.  "Hey dude, they're playing that for you!  How cool is that?!"  The irony hit me that ambulance sirens are only cool when you're not on the stretcher, so I shut up to the quiet amusement of the paramedic.
He's home now, fully oxygenated and saturated with antibiotics.  I was getting used to his hospital room, it was peaceful in there, apart from the odd 3am emergency helicopter landing outside our window.
I had a rough night last night… I dreamed of wading through rubbish-dumps full of rotting corpses, and trying to hawk two black bags full of household un-want at a car boot sale, also full of dead people.  It's strange, but Puppychild losing her blanket has affected me far more than her.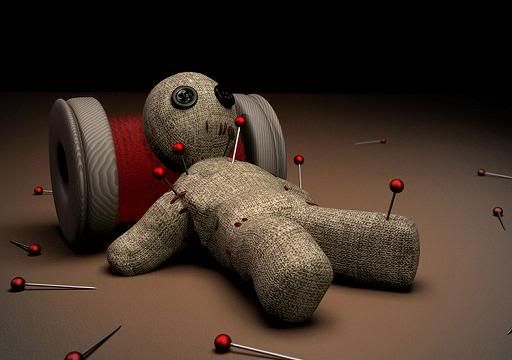 One of the people who babysat her during our wee trip to the hospital took it upon herself to decide that now was the time my five-year-old must grow out of her comfort blanket, see.  So, it went in the bin.  I thought it would have been a proverbial bin, but it wasn't.  By the time I had phoned to retrieve it (to stash in the attic until Puppychild reaches twenty one), the bin-men had come and gone, apparently.  Gutted doesn't even come close.  It's amazing how like a pet a raggedy smelly old blanket becomes.
I'm thinking that some people actually deserve to have their toilet-seat superglued.
Earlier today a woman behind the counter in Avoca Handweavers smiled at my swelling belly and asked me how long I had left.  I hear that question a lot, and the answers are getting frighteningly short so today I changed tack, because I was in the mood.  I gasped in indignance and retorted at the top of my voice; 'ARE YOU SAYING I'M FAT?!?', and stormed off with a big smile on my face.  It felt good.  I think I might leave that as my standard answer from now on.