Feb 24
The Nesting Instinct
You may or may not have heard references to this phenomenon before.  It's described as an instinct that kicks in at some point during pregnancy, most commonly when birth is imminent.
There are whimsical references to it in books and in films, down the pub and during Ann Summers parties… this urge to clean obscure and bizarre places.  But!  It should never be underestimated.  It is a very serious thing indeed.
I'm not talking about getting on your hands and knees to scrub yellowed pee and crusty puke from the dark corners of the no-man's land behind the toilet, I'm not talking about risking life and limb to reach the waterproof covering on the bulb in the porch to extract the countless dead bodies of flies that have accumulated over the years (how the hell did they get in there in the first place?!?)
I'm talking about demon possession here.
One morning, you might wake up and decide that every floor surface in the entire house must be bleached to within an inch of its varnished life.  Superhuman strength makes you lift the couch and drag heavy oak tables outside, even though you're tired and hungry, you will not rest until it's done.  You'll happily risk your life, your back, and your growing belly for the cause.  It's a very strange thing.
Today it happened to me, but I'm nowhere near my due date.  At least I hope I'm not.
This is what it looked like at 9am this morning:
Twelve hours later, it looks like this: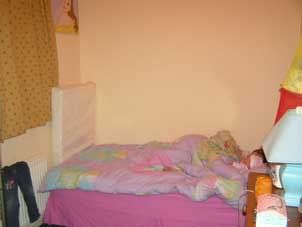 I'm not sure how it happened, nor where all the junk went to – I blacked out for a while and may have eaten it all. All I know is that if somebody called to the door with a de-fibrillator right now, I'd happily have a go of it. Even blinking hurts.
So, if you have a room that needs de-cluttering, forget Kim and Aggie, all you have to do is get yourself up the duff. Most of the time, it works every time.