Feb 1
The naming of the foetus is an epic task, especially when you haven't met it yet.  Of course there's always the option of naming it after its zone of conception, but who wants to live their life with 'Ballybunion' for a moniker?
Baby name books are pointless, especially Irish baby name books.  From Morrigan to Aoife to Siobhán, everyone has something mean to say about a name, (Siobhán your knickers, yer da's on his way…) or somebody already knows a person by that name and doesn't like them, or it rhymes with something rude… or maybe it's just plain naff.  Nah, if you ask me, the only way to choose a name is to scan the credits at the end of a film – this method always spews forth interesting possibilities.
Take my friend for instance… she's due her babby in three weeks time, and she loves the name Charlie.  She cannot name her kid Charlie, however, because her surname is Brown.  Hell, Snoopy hasn't been aired for years, if you ask me she's on to a winner, but her family won't let up nagging her into changing her mind.
Then there's my other friend, who gave birth last month and named her baby girl 'Kitty'.  It's not short for anything, Kitty is her name and Kitty is what she shall be called.  I love it, but it's undoubtedly quite an eccentric name, which beautifully mirrors a very eccentric family.  My family is not eccentric, at least TAT's side isn't… I can imagine the multitudes of rolled eyeballs, the quick snide remarks directed towards the stoner family at the Christmas table.  It's just not worth it.
No, The Accidental Terrorist and I came up with an idea long ago, we had a flippant moment during a private viewing of The Big Lebowski:
Dude.
Why can't I call my child Dude?  "The Dude.  His Dudeness… Duder, or El Duderino if you're not into the whole brevity thing" to quote The Dude himself.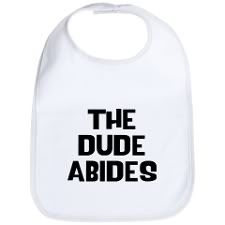 Yeah, yeah, I know why I can't call the child 'Dude', because someday he'll grow up and will most likely want a job that doesn't involve canvas or scripts, or burger flipping.  Such is life.  Or is it?!?!  Such is the beauty of the Irish language perhaps… like the phrase 'Mahogany Gaspipes', the word 'Dude' could be Irish – all you have to do is add a fada and an 'i' somewhere, and the problem is solved, as follows:
–Duaid; short for Duaided, means 'Evil Death'… who picks on a kid named Evil Death?!?
–Dúid; short for Dúidín, meaning 'Pipe'.  Grandad would be so proud.
–Dóid; meaning 'Fist'… again, schoolyard politics are in favour of this one.
–Díud; short for Díthugad, meaning 'Extermination'… a future in pest control perhaps?
–Diúd; short for Diúdán, meaning 'Giddiness', which is fitting.
–Duíd; a version of 'David', which my mother called me during the first three weeks of my confusing life.
But maybe the most fitting yet:
–Dúd… meaning 'Mouth', because his would be one more to feed.
I do so hope it's a boy!