Jan 17
I just love to have the shit scared out of me.  I don't know why.  Maybe it's because I was never allowed to watch 'A Nightmare on Elm Street' as a kid – perhaps the curiosity became addictive in some way?  Or it could be some genetic throwback from a previous life as a cave-dude, constantly looking for challenges.  Fuck knows.  I'm warped, with a curious fascination for oddities and the macarbe.  It will be written on my tombstone.
Like this Thing in a Jar, for instance.  When I found this website it gave me an itch to make a Thing in a Jar all for myself to store in the fridge and keep family members and Social Workers on their toes.  It's beautiful, isn't it?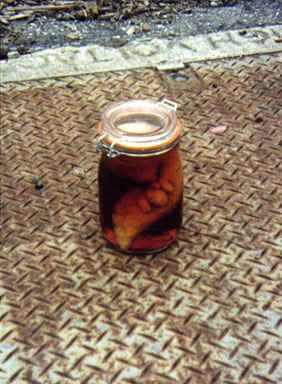 So, after a tough day's bleaching and marinading and entertaining small people, I want to sit down and watch something intensely creepy and mindlessly horrific on TV to relax – that's not so much to ask, is it?  It just doesn't happen though.  Yeah, sure, there might be some horror flick on or other, but bar 'The Host', they're all pretty same-ish.  There is a television show called 'Scariest Places on Earth' which would be right up my alley, if it wasn't so shite.  They pick a family full of whiners and handbag clutchers and ship them off to haunted castles and make them stay there with cameras strapped to their faces for the night.  They move them from room to room and scare the bejeebus out of them with obviously rigged booby-traps.  It's painful.
They got it right once.  The first time I stumbled across the show, they were running a documentary-type story about the crypts of Paris' underground.  They made a big deal out of a video-tape they'd allegedly found in a camcorder five levels down, owned by a person who'd obviously gotten lost.  I watched in abject sympathy as this poor fucker almost soiled himself when he realised he was probably stuck in the bowels of Paris with occult symbols, powdered bones and tortured souls for the rest of his short life.  The tape ended as a dark shadow appeared from one end of tunnel, attacked the film-maker and left the camera lying in a puddle recording hair-raising screams receeding into the darkness.
That episode fed my imagination for weeks.  I told every living soul about this amazing TV programme and when I finally got to see it again, it was about the Knobend family and their amazing ability to scare easy.  It's amazing how many people piss their pants when a wee gizmo they're holding suddenly starts flashing red lights, though I would absolutely love to be the person that operates that remote control.  Why can't they just give us the creepy facts, throw in a dodgy ham video and a Thing in a Jar?  Now that would be entertaining.