Jan 10
PAIN
It's the one question that everyone asks; when the subject of babies crops up, the look of fear on their faces is unmistakable.  They wonder why I'd willingly offer up my body to excruciating hell like that, and tell me they'd go the 'too posh to push' way if it came down to them.  I can see why they'd say that, but I can also see how vastly misled they are.  It's the film industry… they love the gushing bloodiness, the portrayal of  the sweaty monster screaming and cursing at its husband… they make the whole ordeal seem so vulgar and hellish, it's no wonder so many women opt for the cesarean section.
THE MYTH
In truth, childbirth is not the most painful thing that can happen to a body.  Childbirth is about endurance, not about pain.  Pain is what happens when you break your leg, or suffer from an abscess.  It's something that involves destruction or infection, something that happens to let your brain know that there's something wrong.  Childbirth is entirely different, so it's really not fair to taint it with the same brush.
Childbirth is all about creation, and as such it feels different.  Yes, the pressure hurts a lot, but it comes and goes, that's the beauty of it.  You get a two-minute rest in between contractions, even in the thick of it, and these two minutes are pure bliss because the void is so beautifully apparent.  And, what's even more amazing, is that once the whole ordeal is over, the pain is over, completely forgotten in the blink of an eye.  There are no splints, no metal plates to be inserted, no antibiotics (unless there are complications of course), the pain just… goes away.
One woman I spoke to even told me that she had a pretty amazing orgasm while giving birth once.  She has four children with another on the way, and there's not a chance you'd entice her into a cesarean section if she had a choice.  Nor is she particularly masochistic I might add, as I noticed once when she caught her finger in the car door.  A bigger whiner you wouldn't find – yet the concept of labour excites her no end!  Go figure.
Of course, there's the part where one is required to squeeze something the size of a large bag of spuds out of an opening the size of a postage-stamp… surely that's got to hurt just a tad?  It does, no kidding, but here's where Mother Nature shows her infinite kindness.  When… um… things are stretched beyond a certain point, the nerve endings in the area shut down so that in reality, you only have about ten seconds worth of screaming agony.  Okay, so it's a pretty long ten seconds, but it's not the five hours they portray on television, not by a long shot.
Me?  I've never had an orgasm while giving birth, I chose the way of the epidural, the drug that is so amazing, you really don't care that it takes a syringe the size of the Empire State Building to administer it.  I would have happily stabbed my spinal cord repetitively with the syringe myself, if there hadn't been an anaesthesiologist around to do it for me.  It makes you want to vomit, it makes your thighs itch uncontrollably, but it gives you a clear enough brain to enjoy the experience.  I too was a woman who swore she'd be able to give birth without pain relief, but as a midwife once asked me in the throes of things; "Do you think you're getting a feckin' medal for this or something?"  She was right.  There are no medals for martyrs, that's the whole point.
THE TRUTH
Pethidine is the Devil's drug.  It hurts.  It doesn't stop labour from hurting.  It leaves a numb-spot on your ass for months afterwards and leaves your baby more stoned than Woody Harrelson.  Don't be fooled.
Nitrous Oxide is great craic, especially when the midwife leaves the room and your birth partner gets to have a go and the midwife returns to find everyone gasping in hysterics because there's a crack in one of the ceiling tiles.  It's that much fun, it should be illegal.  Its only downfall is that after a while it feels like you're swimming in mercury and you end up in the horrors, so less is most definitely more, but very very very funny with it.
Tens machines are only good for the people who get to watch you jump every ten seconds from the electric jolt.  They find it hilarious, but you won't.  Yes, it distracts you from the pain a little bit, but frankly what is far more entertaining, is placing one charge on each one of the testicles of your loved one, and then zapping him while he sleeps.  Laughter is an excellent pain reliever, especially the evil type.
Last but not least; Yes, you will most likely crap yourself while in labour.  As foul as that sounds, it's the last thing that'll be on your mind at the time, so why give a shit*?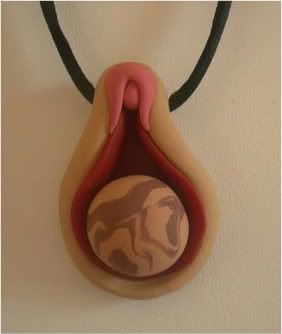 Bizarro jewellery… you know you want it.
*Did you come all the way down here to see if that was an intended pun?  Don't you know me by now!?!?