Jan 8
Freezing Brass Monkeys.  What do you do when your kid's stranded four towns away and you want him home safe, but can't drive to him?  You drive anyway.
Eddie Blizzard had visited the night before… snow lay everywhere as though an over-zealous cake-maker had decided frosting was going out of fashion.  A cupful of salt and a lot of revving finally got me there and back just about, even if I did knacker the car's clutch on the climb back home.  My boy was safe.  I had food and fuel, and nowhere else to be.  What more could a body ask for?
I very quietly patted the dashboard as I got out of the car, and thanked Betsy for being so reliable and promised to make a better effort to keep her serviced this year… I said it quietly because The Accidental Terrorist and his mates were hanging around and I'd like to keep my talking to inanimate objects just between you and me, to be honest.
A snowball pelted me in the ear.  A small pride of kids were hiding behind a snowy knoll and were ambushing the men who stood in the doorway to my house smoking fags and belting the odd half-assed chunk of ice back in the direction from which they came.  Puppychild stood in safety in the sidelines and giggled at the hilarity of it all.
I suddenly felt a snowman coming on…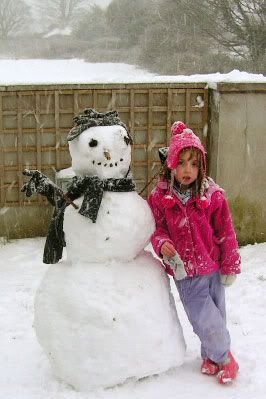 Made to order. Can ship to Australia.
A half-hour later found me thawing the kids in front of a roaring fire and mopping misfired snowballs off the hall floor.  I heard a muffled thud and boyish laughter.  I peeked outside.
Our snowman decapitated, the gratuitous death of childhood innocence, it was pure carnage that lay before me.  The kid swung his stick back over his shoulder, and took aim for the midsection of my poor snow-dude.
"Oi!!!"  I sauntered outside in my teeshirt and wellies.  The kid froze, so to speak.  "What's the story, bud – what did that snowman ever do to you?"  He dropped the stick and took a step backward.  He stood right into a pile of Wouldye's crap, but you couldn't tell because it was all covered in pretty whiteness.
I told him off for a few seconds, but it fell on deaf ears.
"Wat's that on yer arm?" he asked, and pointed at my tattoo.
"It's a tattoo."  I said.
"It's weird."
"So's your face."  I said.
"D'you have other tattoos?" he asked.
"Yes, a few, but we're getting off the point!"
"Why d'you do that?  Put tattoos on you?"  he wiped snot from his glowing nose… it froze instantly on his sleeve.
"Because if I get kidnapped and murdered and the murderer tried to cover up his crime, he'd want to chop me up, wouldn't he?  He'd knock out all my teeth first, then he'd pry all my fingernails off with a monkey-wrench, then he'd further try to hide my identity by cutting my limbs off to dispose of separately.  By my tattooing as many limbs as possible, the murderer knows that disposing of my corpse would be a pain in the ass, see?  So… he'd come looking for somebody else, wouldn't he?  Furthermore, if he's watching me right now like all experienced murderers are (especially around here), he's bound to choose you, isn't he?"
The kid's chin began to tremble.  He mumbled something about my being crazy.
"MOMMY?!!" he shouted towards a group of women in a faraway cul-de-sac.
"Your mommy can't help you now, kid."
He legged it, as fast as his Ben 10 booties could carry him.  I am heavily protective of my snowman.
To be sure to be sure, I found the patch of dogshit and began to roll it around.  I made a head out of it.  Then I replaced his smile and his cap and gave him a wink and blessed all who smashed his face in.