Dec 1
The 'outie' phenomenon.
Apologies to all Omphalophobics out there… you may want to look away.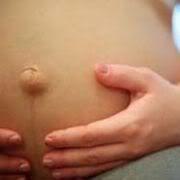 It comes as a terrible shock to one day look down at your navel to find that it has turned itself inside-out.  It's an even greater shock to stick your pinkie finger in there to find there's a hole that leads to somewhere possibly very intriguing.  Offering to have other people stick their fingers in there is not a good idea… the resulting scream of "EW!!" tends to make the foetus jump, which is a high price to pay for personal sadism.
It makes one realise that there are certain things one shouldn't do if they ever intend to be pregnant;
– Navel Piercing:  I had my belly button pierced during a rosemantic getaway with my fella once… I did it to soften the pain of his tongue piercing.  I never really wore jewellery in there, it kept getting hooked onto my belt buckle which is not to be sneezed at.  I let the hole close, which never really happens with a belly-button piercing, especially if you get yourself in trouble.  I remember being in labour with my first child, and sharing a room with a young male midwife who almost passed out when he spotted the gaping maw of my self mutilation.   When he asked "WHAT THE HELL IS THAT?!?!", I replied via ventriloquism using the piercing wound.   He was not amused…. not even when I sang 'Blue Moon' with it.  Nitrous Oxide is wonderful stuff.
– Tattoos of dolphins 'jumping over' your navel:  That is, unless you also like Humpback whales.  Humpback whales who have been through intense orthopaedic surgery, for that matter.  It's not pretty.  Any sort of tattoo is a bad idea in the belly department for that reason, for while everything else might shrink back to normality, tattoos don't.  They disobey logic in all its forms… maybe this is where Picasso got his inspiration?