Nov 26
Thrupenny bits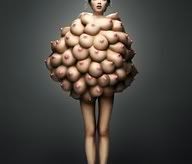 Yes, I mean those two girly lumps stuck to the front of you that you've grown to know and love… from the early weeks of duff'ness, they develop their own personality altogether.  Welcome to the anomaly that is alien pregnancy boobs.
You may notice at first that the straps of your favourite dark and lacy number suddenly dig into your shoulders and leave deep tracks where there never were before.  Then the rest of the bra suddenly begins to tear under the strain of growth… they threaten to spill their contents on every bend-over… they create a weird muffin-effect that makes your chest look like it's perpetually frowning.  Time to go shopping.  Not only for a new cup size, but a bigger (horror!) chest size too – we need to make room for all that rib-growth and baby weight, don't we?!  Katie Price, eat your heart out.
(Scroll to the end of the post to see an amazing pair of tits*)
High beams
Don't even start me on the raspberry ripples… you could pad that bra with re-inforced titanium and those things will still find a way to poke through and stare at passers-by.  Full beams, baby… get used to woolly sweaters.  If the darkening of their colour doesn't alarm you, their sudden sensitivity will… it's like somebody came along one day and re-wired them completely.  If you have fillings in your teeth, and have ever accidentally experienced the sudden shock voltage of chewing tin-foil accidentally, you'll have an idea of what an brief brush with those nipps feels like.  Electric shocks, when you least expect it… takes a lot of getting used to.  This does of course also have its advantages, but that's for a whole other post.
There are ways to ease the boob situation of course, that you don't always find in books.  If you don't want to roll over and trap a nipple under your elbow while you sleep; thus making you hit notes that Kiri Te Kanawa herself would be jealous of, wear a bra to bed.  This over-the-shoulder-alien-boulder-holder also helps to stop the formation of shuddersome stretch marks that never go away, and gives you something to put cabbage leaves into when things get overly hot and stuffy in there.  Yep, a good bra is your best friend, and so is that lovely lady in the lingerie shop that will fit you out properly… when your thrupenny bits are in order, that's a quarter of the battle of pregnancy sorted, right there.   Oh – and stay away from tight white tee-shirts… because you just never know what might leak, or from where.  That panic you feel when you realise that things have gotten so bad even your boobs need nappies – that's normal.  It's not pretty, but somebody's got to do it I guess.
–
–
–
–
–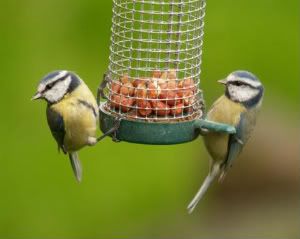 *…there's nothing quite like the sight of nuts nestled between lovely tits.