Nov 14
K8 the Gr8.  K8 the host of a 16 week old foetus, K8 the mother of a disabled child with a tendancy towards chronic chest-infections, K8 the mother of a school-aged child… K8 the skeptic.
I am at risk thrice over from this swine flu (H1N1) pandemic, and I'm forced to make a very bloody difficult decision indeed.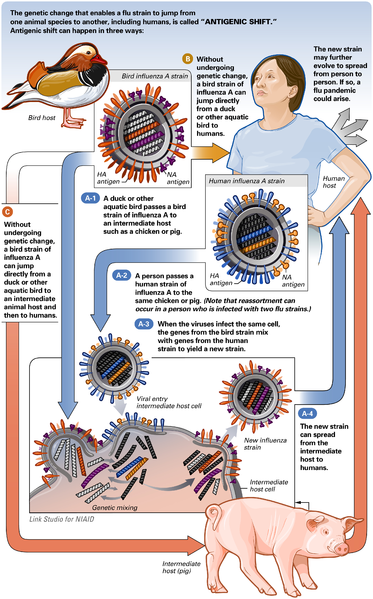 To vaccinate, or not to vaccinate?
The death of a pregnant woman earlier this week touched the hearts of the nation, she had contracted the virus and was unable to fight it.  She is me, I is she… I couldn't help but bite my nails when I heard the news.  The vaccine was rolled out in Laughingboy's school a week or so ago, but I refused permission for my son to have it.  After all, the last time I allowed him a flu-shot it knocked his immune system so badly, he ended up with pneumonia.  Santa at Christmas Eve in a ward full of sick children is a very sad sight indeed, a sight I'd rather avoid in the future.
I consider the facts as far as I can delve… this current vaccine seems to be the same vaccine that has been used for the same flu virus for the last twenty-odd years.  Call me naive, but I figure that this H1N1 virus is slightly more intelligent than Mary Harney… I figure it has the ability to evolve, to mutate into a sickness that may, in all probability, flip the birdie at a vaccine that's nearly older than myself.
"It is generally agreed both nationally and internationally that potential complications associated with H1N1 in pregnancy far outweigh any possible risks associated with vaccination in pregnancy." www.rcpi.ie
The problem is, they don't really know to the full extent, what those complications are, because it hasn't been tested that thoroughly yet.  My mother summed it up in one very highly intelligent (if not slightly scary) word; 'Thalidomide'.  She's right – there is always that possibility, no matter how remote.  I am being asked to allow a toxin into my system… a system that is already slightly more volatile than it normally would be.  Who is to say that my child won't develop leukaemia or cancer or some other sort of miasm as a result of this foreign toxin?  Nobody, it would seem.
From a truly sceptical point of view, there's a chemical company somewhere with an enormous wadge of cash in its kitty as a result of this scare… whether this is a coincidence or not, I'd rather not guess.  Is it a coincidence that companies in this financial climate need money now more than ever?  I'm just saying, is all.
This whole thing smacks a little of a Stephen King novel – the media pulls no punches when it comes to scaring the bollix out of people like me.
To quote today's Evening Herald:
"The vaccine is currently the best defence we have against the pandemic – and that message needs to sound loud and clear."
I beg to differ, and I have the advice of not one, but two doctors behind my theory.
I wasn't met with shock when I announced my decision not to be vaccinated, instead I got a warm smile.  I was assured that viruses of all shapes and sizes are common in winter months, and they don't all make the headlines.  Ever heard of Clostridium Difficile?  This is another bug making its rounds.  Then there's the famous Vomiting virus… that seems to have conveniently disappeared into oblivion, but I'll bet my left boob it's still hanging around.
No, the best defence against H1N1 for a duffed-up woman like me according to these doctors, is just to take care of myself.  I am to eat proper food… raw fruit and vegetables, well cooked meat, three eggs per week, wholemeal bread and rice.  I am to take a nap whenever the fancy takes me, and I am to think happy thoughts.  There is no need for Pregnacare, or extra vitamins (bar the inevitable Folic Acid during the first month) or any of these prettily packaged gimmicks with happy pregnant bumps on the front, aimed at mothers who just want to do their best… they're completely unnecessary as long as you follow the pyramid.  I can do that!
I am happily considering the fact that the Health Service can keep their little prick.
So marks the famous last words of K8 the Gr8.