Nov 2
I don't get it!
I just joined a group on d'Fb called 'Campaign against cutbacks in Crumlin' and did a bit of mooching to see what all the mammies and daddies had to say.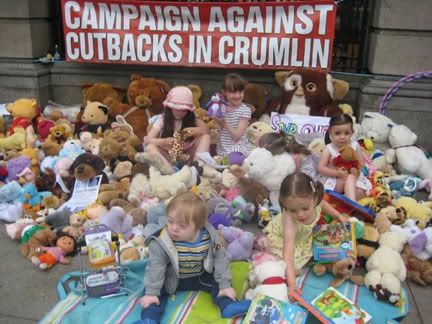 Small children and long waiting lists… cuts on cardiology and Orthopedics, to name but one or two, the coiffers apparently empty.  I remembered suddenly a flashback of a news article about a brand new hospital in the City Center, due to start at the end of next year.  How can that be?  It's to be a state of the art sort of place, with 'up to' 399 beds (each with its own en-suite bog), entirely covering an area of one million square feet of shiny angles glinting all over the kip. €750 million is how much they *think* it will cost, but given that the Luas's grand total outweighted a space mission to Mars, I'm a dubious on-looker.
Pants. I'm not a patron of Crumlin, we attended the other two. It all started for us in Temple Street Children's Hospital, a bizarre building full of stairs and corridors and lifts that can't remember where they're supposed to be. Statues of Mary and prettily hung pictures of pasta and paint and glue adorn the place and it has that oh-so-familiar smell of cafeteria and pee.
Then we were promoted to Tallaght Hospital for sick young 'uns and were introduced to a mecca of enormous corridors and lifts that served us coffee. All you need to do is zoom in on the M50 and you're laughing.
This new place is pretty much next door to Temple Street though. Just one hospital, to swallow up the existing three, in the worst place possible, right smack in the middle of Dublin City. It's a complete bitch to get to, what with wrestling one-way streets and badly timed traffic lights and busy traffic sludge… with the added stress of trying not to crash into Luas drivers who shoulda gone to Specsavers… it's a nightmare.
I'm sure it'll be very pretty an' all, but the only catch is, they have to sacrifice a load of today's babies through lack of care, to do it. That's sort of Satanic if you think about it.
And we're all just standing here watching and saying 'Ah jayzus isn't that scandalliss?'.
I don't get it.