Oct 18
There's a very excellent scene in Tarantino's 'Reservoir Dogs' – I'm sure you know it.  The Fun Lovin' Criminals robbed a sound byte for their 'Scooby Snacks' track it's that cool. Skip to 1:20 in the following video if you have no clue what I'm on about.
I was reminded of that quote tonight.
I stole Pacino's cat.  I fear that if it had been left with him any longer it would soon be an ex-cat.  It's tail is, for the want of a more scientific term, pretty crusty.  It looks like you could break it off and smoke it.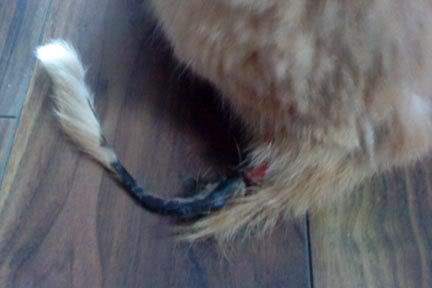 I heard Puppychild giggling in the bedroom earlier…  I went in to investigate to find her upside down, her upper shoulders dangling under the bed – she looked like a decapitated pink chicken.  I heard the engine-roar of a large cat's purr from the darkness somewhere.
"What ya doin'?"
"Playin wit the cat!" said a muffled child's voice.
"Are you torturing that poor animal?!"
"Torture?  That's a good idea!!  I like that!"