Oct 17
Posted on
Saturday, October 17, 2009
in
Music
I don't go to concerts much. I've never been to Oxygen or the Electric Picnic, but I plan to change that eventually. I went to Radiohead once, the most exiting part of that gig was watching the kids spewing all over each other… I think the downer music was a bad buzz. They should have called it the 'whitey' tour.
I went to U2 once, but can't remember much of it. There was no drugs or booze involved, it was just… meh. I wouldn't have minded sticking around for the fireworks, but the crowds were too damn huge and ducking out early seemed a wise idea at the time. As much as I respect Bono and his efforts, he is an undeniable twat. His is the only assassination I'm actually looking forward to for curiosity value, but that wasn't me that wrote 'DIE BONO DIE' towards the Grand Canal part of the Dart line, I swear.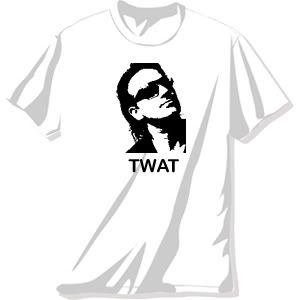 Then there was Paul Simon. Supported by Van Morrison, Blind boys of Alabama and The Fun Lovin' Criminals, this was easily the best concert I was ever at. I was kicked out twice for acting like a mad thing while sitting on TAT's shoulders, and almost passed out when Paul returned my tinkerbell wave. Hey, my crush on Paul Simon cannot be explained, let's just leave it at that, eh?
Tenacious D of course almost made the winner of the 'best concert ever' award. Almost. I'm looking forward to the porn version; The Prick of Destiny. I want to see a REAL cock push-up.
Oi!  Hands up, cheater.
I went to Bon Jovi once, but don't judge me, they were free tickets. I followed two women around and watched them shatter their reputation as classy independent women and wished I had brought those vodka injected oranges after-all. Men that age shouldn't wear leather trousers, that's all I have to say about that.
Guns 'n Roses was another freebie. It was exactly what I expected it to be.
The Red Hot Chilli Peppers was absolute kak. They botched the speaker-rig in center-field so I spent the whole gig searching desperately for at least one of the twenty five people I'd come with, with my hands clasped tightly over my ears. The only place the music sounded halfway decent was from the porta-loos. I got used to the smell eventually.
—–
Now, thanks to a lady who may or may not be the full shilling, but who has thankfully developed a crush on my taxi-driving husband and 'uses' him at least fifteen times a week (and booty calls him at least twice that amount), we have tickets to UB40 at the O2 in November. Apparently her dad works for a large publisher and is the man to ask for tickets and back-stage passes.
I've no idea what I'd say to UB40 if I wandered into their stoner-room though. 'Did you have to bastardize Reggae so blatantly?' I might say. Or… 'Don't you think it a bit of a cop-out that all your top hits were cover versions of someone else's music?' Then again I might not. I might just say 'Howyeh Maxi… this concert made me feel really old! Thanks for that, mate.'
Not that I'm not grateful or anything.