Sep 12
This isn't a rant, or a 'poor me' exhibition, it's more of a 'point-and-laugh' sort of situation.  That's all we can do, really.  It beats going insane.
We moved into this house a few months ago and I expressed on this here blog a genuine gratitude to the Council and to the tax-payers out there for providing a family with a special needs kid a pretty excellent house indeed.  It's still an excellent house, but it feels sort of like a Karma explosion… as though we've used up our good luck for a while and it's back to banging our heads against the wall again.
See… the reason this house is so great, is that we now have a mechanical hoist for Laughingboy so our backs are saved.  The only problem is that we were supplied with the wrong sling; the hammock-type thing that attaches to the hoist that holds the kid… it belongs to a different manufacturer so it doesn't fit the existing unit.  I contacted the Occupational Therapist about this about eight months ago and the poor woman has been tearing her hair out ever since.
See… you'd think that the Health Board would sort this sort of thing, but apparently it ain't their bag any more – they just don't do grants because of cutbacks.  They told us it was up to the County Council.  The County Council told us to contact the builders, who couldn't be contacted because their company went bust, because the County Council didn't pay them for their work.  Therefore the hoist machine we have now is unpaid for, and nobody wants to know… we can pretty much forget about a properly fitting sling.  Time to start grovelling to politicians again? Ugh.  I hate grovelling.  I prefer manual lifting, thanks.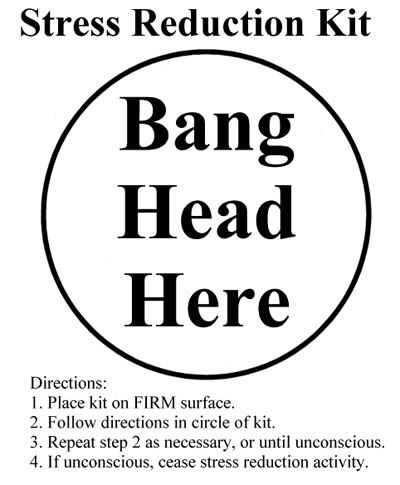 Then there's Laughingboy's wheelchair.  You know those circus acts where the clown comes speeding out like a mad thing on his ridiculously undersized car?  That's what Laughingboy looks like.  His knees protrude grotesquely from the chair, his ankles covered in bruises because his legs are too long to fit onto the footplate properly.  He keeps sliding downwards into the chair like a naughty child at the back of the class trying to avoid his teacher's glare, because his restraints had to be removed to stop them pinching his waist.  He cries a lot, but you would too if you had to spend most of your day strapped to a kiddie's tricycle.
We… that is Motability Ireland, Laughingboy's Occupational Therapist, his teachers and us, his parents, began lobbying for this chair seven months ago, and it looks like it'll be another six months before the red tape is cleared and the Health Board can be assured that the existing chair cannot be adapted any further.  Only then will they think about clearing another one.
I've robbed a shopping trolley from Tescos in the meantime, if I pimp it out with a duvet and some pillows it should do the job nicely.  We could walk down the median of the motorway on the way to school and everyone could beep and laugh.  I'd wear a sandwich-board advertising the H.S.E., just to complete the irony.
You couldn't invent this stuff, because if you did, nobody would believe you.