Sep 11
I went back to the Megalithic Tomb today, this time armed with bad-ass thorn resistant gardening gloves and a heady thirst for archaeology.
I worked hard for an hour, and was delighted to find a sapling Hawthorn tree, almost strangled completely with ivy.  I freed it up to give it room to grow, and sent it some energy as you do… then began to work on the area around the entrance to the tomb to see if I could get inside.
A car pulled up on the road beside the field in which I was working.
"OI!!!  What are you at?!" a woman in a silver car shouted from her driver's seat.  As I approached, she wound her window up to within four inches, as though I was about to attack her from the other side of a heavily barbed fence.  She had a face on her like a Chihuahua chewing on an earwig.
"I'm very sorry to trespass… I…"
"You're not trespassing!" she interrupted.
"I found this tomb over-run with brambles and thought I might take it upon myself to clean it up."  I smiled my prettiest smile.
"You have no business doing that!" she shrieked.  "I'm sick of young ruffians coming in like they own the place and destroying everything, sick of it!!"
"I promise you, I'm no ruffian" I replied; "I used to be an archaeology student and this sort of thing fascinates me.  I'm destroying nothing, only cleaning the place up.  I'm very proud of it."
"I'm proud of it too, so GO AWAY! When one comes in to wreck the place, the rest of them follow"  she shouted.
"I didn't mean to offend…"
"Well then GO AWAY" she shouted even louder.  I began to get slightly pissed off.
"Look, if you don't let me do this, then I can't find a way to protect it.  The Council could come in tomorrow and bulldoze the lot and we'd lose a seriously amazing piece of history."
"It is protected!"
"I don't believe it is… I looked on the archaeology information website and can't find any record of it."
"SO WHAT?!" she scowled.
"So… could you tell me how I can get permission to access the tomb to clean it up and protect it?"
"You can't have permission!!  GO AWAY!!"  She smiled a demonic sort of smile and shut her window.  End of conversation.  I walked away, furious.
-o0o-
What are the politics behind this?  Does anybody know?  If I'm not trespassing then who is she to tell me to leave?
I hope the tomb faeries break the pistons on her crappy little car.  Stupid bint.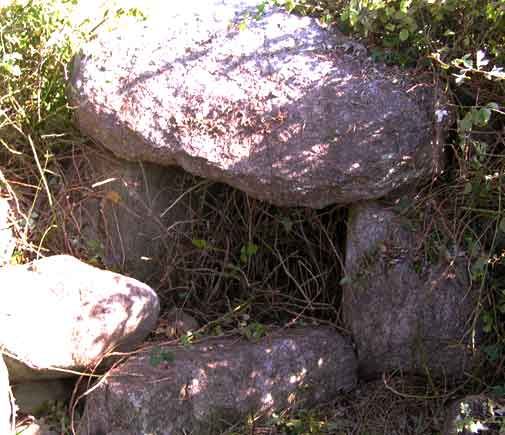 So close, yet so far.