Dec 4
I have a tacky little porcelain teddybear at home.  It was given to me on my eighth birthday by my friend Paula, bought with carefully saved pocket money and presented with glee.  It has no function, no purpose, other than the fact that even though I haven't seen Paula since 1992 I still think of her every single time that little tacky bear catches my eye.  I wonder what's she's doing now..?
I have a Christmas book, given to me by my late Granny.  It is full of Hans Christian Anderson stories and Henry David Thoreau poetry, and is decorated with hand-drawn snowflakes, printed in ornate calligraphy.  It's beautiful, but didn't cost the earth, and the best thing about it is that even though it's been in my home for over twenty years, it still smells of Granny's house.
My point is, that people are shamefully spoiled these days.  I keep hearing the same old gripe about Christmas presents – 'sure you always end up getting something you don't want!' – sounds like what you want is a good kick up the Jacksie, mate.
My point is that no matter what you get as a gift, a part of that person is in it.  They thought about you while they were buying it and when the giver shuffles off this mortal coil, you can be damn sure you'll be grateful of the memorandum, no matter how cheap and tacky it is.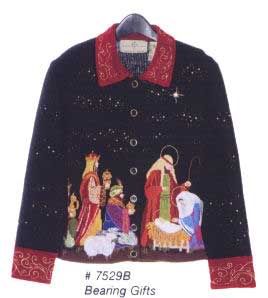 -o0o-
I painfully witnessed a sad scene yesterday between my friend and her mother;
Friend – Howye Ma, happy birthday!  Here's a 100 quid for you to spend on yourself.
Ma – Ah no, that's too much to give, sure you need that money yourself!
Friend – Ok then, let's call it a combined birthday and Christmas present.  How's that?
(Ma takes the two fifty-bob notes into her left hand and thanks her daughter, then begins to shuffle around in her handbag.  She produces three twenty-bob notes and passes it over.)
Ma – Here y'are now.  There's sixty euros for you to buy something nice for the kids for Christmas.
Friend – Ahh thanks Mammy, I'll put it towards the Xbox!  That's great.
Ma – Oh and here… I've that forty euros you loaned me last month.  (She hands over two more twenty bob notes.)
-o0o-
I couldn't help but notice that it would've been easier to just hand back over the two fifty euro notes in her left hand that she'd just been given, but maybe it was the juju preventing her from doing that.  I had a fierce row with my buddy afterwards about the fact that money is just money… just because somebody handed it to you, doesn't make it special.  She disagreed vehemently and told me that this money is special, to be put aside to spend on something nice.
I'm sorry, but isn't that bullshit?  She hands over 100 euros, she gets 100 euros back.  She spends 100 euros on something for herself, therefore she's 100 euros worse off than she was before. 
It was her own money she spent!!!  How is that a present from Mammy?
The way I see it, is that the above conversation roughly translates as: "Sorry I can't afford the time it takes to think of a genuinely nice present for you but I know I have to give you something.  Here.  Take 100 euros and fuck off.  (It's like a voucher, only a uninversal voucher that you can spend in any shop in Europe.  Aren't I thoughtful?)"
My friend assures me that everybody is doing this these days, but hers is the only family I've ever seen doing it with such style!  Is she right? 
Am I just being an anal freak?  Where's the Christmas spirit?  I could do with a shot about now.